Post by Sarah on Jun 14, 2010 9:45:19 GMT -5
To make your own fleece covered tube you will need:
Fleece
Two bolts with wing nuts and four washers
A tube (cardboard or PVC pipe) I recommend a tube of at least 6 inches in diameter.
I am using a cardboard tube here.
First you need to mark where the bolts will go
I suggest you do this by holding against your cage. This will ensure it fits your bar spacing.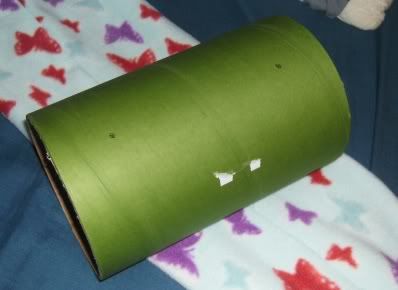 Make your two holes just big enough for the bolts to go through. A tighter fit is better than a loose one.
Next you need to measure and cut your fleece to size
First measure the length. For this you need 2 lengths of the tube plus two-three inches spare.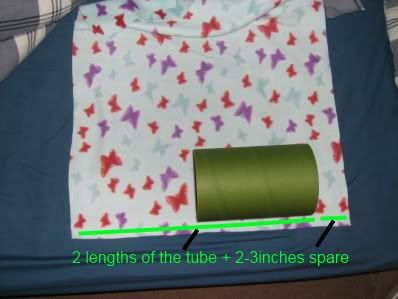 Before cutting make sure you have enough fleece for the width.
To measure the width I rolled the fleece around the tube adding about four centimeters spare.
Once you are happy with your measurements you can cut out your fleece.
Once you have done that fold the fleece in half with the wrong side on the outside, pin and sew along the length two centimeters in. This will give you your fleece tube shape.
Turn the fleece through itself so that the right side is now showing and slide over your tube, bringing the fleece right the way to one end. I like to have the sewn edges close to the bolts as this helps to prevent your chin getting a hold of it and also hides it's ugliness from view!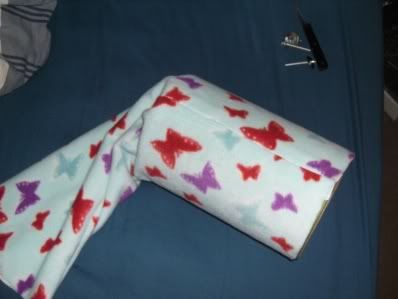 Next take your bolts with one washer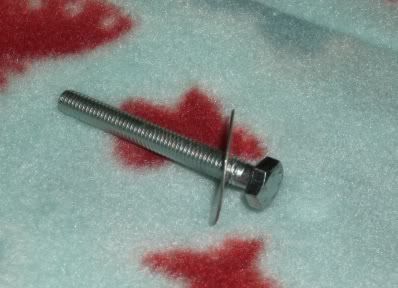 And push gently through the holes but not all of the way. Where the bolts come through to the fleece you need to make two small nicks. Tiny nicks are big enough but don't worry if you over do it as these cuts will be covered. Now you can push your bolts all the way through.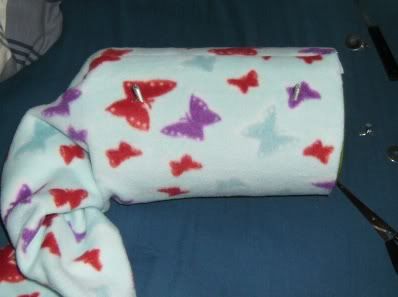 Now bring the rest of the fleece through the inside of the tube.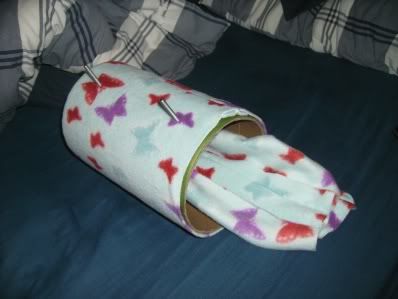 And pull the spare length up and over the end of the tube
As you will see the fleece inside the tube has covered the bolts so your chin can't get hurt on them. The right side of the fleece is also the right way up!
On this tube I used extra spare length...Anya is good at removing the cover! So I needed to make another nick in the fleece for the bolt to come through on the folded over bit. You may not need to do this.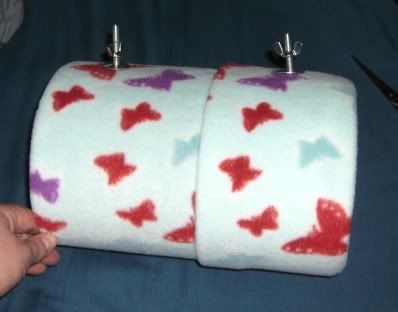 I also added a couple of bits of velcro underneath the folded over bit to ensure Anya can't win! So far it's working!
The tube can be hung on the side or the roof of the cage
Covers are removable for washing
That's it, simple!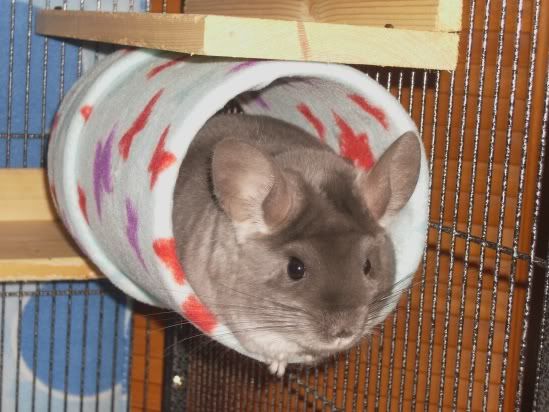 And in case you are wondering...fleece does not fray and the ends do not show so there is no need to make hems or anything